My Evolvement Summit Experience by Emilia Coombs, APECHS HS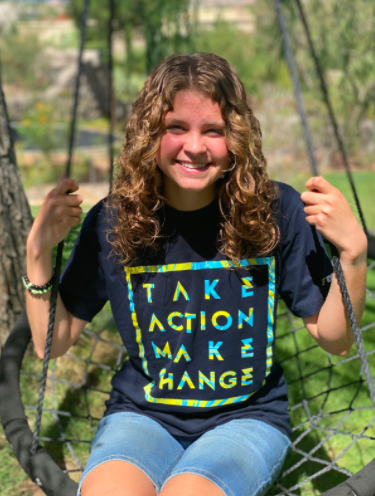 My name is Emilia Coombs. I am a Junior at Arrowhead Park Early College high School in Las Cruces, New Mexico. I have been a member of Evolvement for three years, but this is my first year on the Evolvement Leadership Team. In order to join the Leadership Team, you must go to a Summit where they teach you more about Evolvement and the campaigns it works with. Usually, this Summit is at a hotel in Albuquerque, but this year we did it virtually. At first, I was sad that the Summit wasn't going to be the same as I imagined it, but once they started sending packages with surprises to open during the Summit, I got really excited!
The virtual Summit helped introduce us to what it is like to be on the leadership team. It taught us how to set up principal meetings and partner presentations. We also got assignments that helped us put ourselves out there as Evolvement Youth activists. For example, we had an assignment to reach out to an organization about meeting for a partner presentation. It also taught us how to communicate effectively with important people and even gave us experience by letting us meet with Tupak members and representatives. The opportunities and experience, during the Summit, taught me to be confident and feel like an important member of the Evolvement team.
The Summit also had super fun, above and beyond, activities! One of the days, they surprised us by having everyone open a package they sent with a huge canvas and a paint set! They then had everyone paint a picture of white sands with a beautiful sunset together with an instructor. Another day, they gave us cookies with a frosting kit to decorate. They also gave everyone a "zoomate" to meet and do activities like a lip singing battle. The Summit gave us super fun leadership opportunities and had us do so many exciting activities with each other which allowed us to make new friendships with the rest of the leadership team.
This experience taught me to grow as a leader and helped prepare me for the role of an Evolvement Youth Leader. I'm so glad I had this awesome opportunity to attend the virtual Evolvement Summit because it helped me create friendships, feel more confident, and know that my voice as an Evolvement youth activist needs to be heard. Because of the Summit, I feel super excited about my new role as an Evolvement Youth Leader. I can't wait to do my part in promoting a tobacco free New Mexico.
My Evolvement Summit Experience by Emilia Coombs, APECHS HS