What It Means to Be a Leader at My School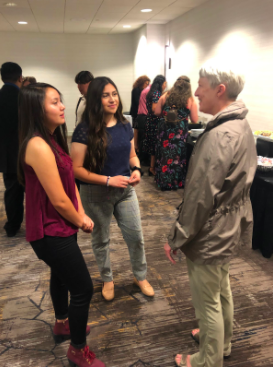 May 2020
My name is Karina Tarango and I am a part of the Evolvement leadership team. I am a senior at Capital High School in Santa Fe, New Mexico. I have been involved in Evolvement for two years and one year in the leadership team. Evolvement has allowed me to become a better leader to not only promote a healthier New Mexico but also by leading other groups in my school.
A good leader is someone who knows how to communicate well with others and is able to take into consideration the opinions of others. By being a part of Evolvement, I have improved my leadership skills by practicing during the summit and also throughout this year when talking to legislators and speaking to my community about the importance of keeping tobacco away from schools. For example, when I went to speak in front of my school board to share my concerns about the tobacco policy I felt like I was being a voice for my peers and for my community.
This experience, amongst others, has reminded me of how important youth are to making policy change possible. When I speak about the need for tobacco policy change, I know that I am making a difference for future generations and I am speaking on behalf of my peers. These leadership skills I have learned in Evolvement have allowed me to be more involved in other important issues. In the future, I will continue to use my voice because thanks to Evolvement, I have realized that my voice matters especially as a young adult. I am very proud to be involved in the Evolvement leadership team because I have made an impact on my school community.

What It Means to Be a Leader at My School