My Evolvement Summit Experience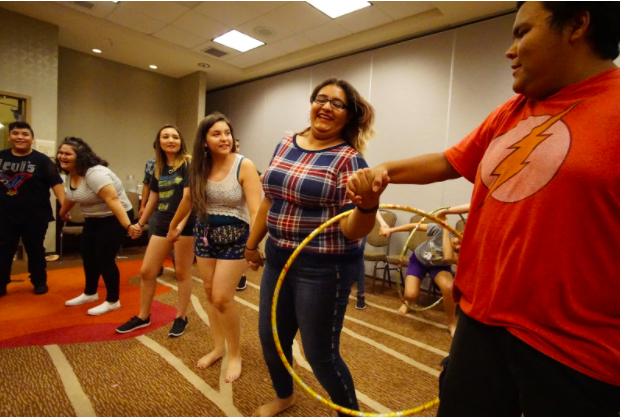 My Name is Allyssa Wright I am a Senior at Arrowhead Park Medical Academy. I have been in Evolvement for 4 years since I was a freshman in high school. One of my favorite pastimes in Evolvement was being on the Evolvement Leadership Team for the 2018-2019 School year. One of the top favorite moments of being on the evolvement leadership team was the leadership summit in the summer.
The Evolvement summit not only taught me so much about the importance of Evolvement but also what passion I have for advocating. I remember being nervous to be on the leadership team at first, but I was lucky that my sister was on the team before me and was also on it when I was on it as well. When we got to the hotel we were greeted by the Evolvement staff. Iit was so exciting to be able to be in a space where there were so many passionate people who truly not only want to make a better New Mexico but a better country and world. Once we all got settled into our rooms we went to meet in the ballroom and we were all able to greet each other and meet so many Evolvers from all around New Mexico who all had different stories for why they joined Evolvement. We were able to learn more about Evolvement but also have some fun!
What I truly took away from this experience was the community that was built in coming together in the spirit of advocating. At this summit it really helped me build my confidence in my public speaking and advocating. Public speaking and advocacy are part of the reason I want to go into the field of political science to help advocate for people! This summit has benefited me in more ways than I can express in words. Something that it really benefited was when we were practicing our elevator speeches. Having a testimonial about Evolvement and their campaigns taught me how to be able to describe something complex in a matter of a short period of time. What I always believe is beautiful about Evolvement is being able to share your passion with so many people and that's exactly what we did at the summit.

My Evolvement Summit Experience