Taking Action at the State Capitol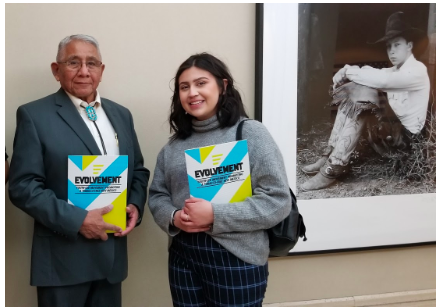 My name is Karina Tarango and I am a senior at Capital High School located in Santa Fe, New Mexico. I have been in Evolvement for two years and this year is the first year in which I participate in the leadership team. This year, I've had the opportunity of going to the State Capitol with other Evolvers from the leadership team and spoke to legislators about a tobacco policy change.
Policies are sets of guidelines, systems, and procedures that must be followed effectively by a community. In order for these policies to achieve effectiveness, the policies must be strong and have no loopholes. The No Minor Sale Campaign focuses on implementing a policy that prevents youth from having access to tobacco. If a policy like this is passed and implemented, then youth could prevent addiction and health complications in the future. Since joining Evolvement, I have been advocating for a change in this policy. This year was my first time attending the event at the State Capitol which allowed me to use my voice to speak on the issue of tobacco to our legislators.
Youth are the future of our nation and for that reason, we should be involved and advocate for change in policies that will improve our future. Through Evolvement, I have discovered that allowing my voice to be heard will contribute to a larger change in the future. I believe that if all youth become involved in policy, then legislators help us to take action and help improve the lives of youth and future generations. Evolvement is trying to make policy changes that will promote healthier lives of youth from all across New Mexico and with the support of our community, we will reach a change.
Taking Action at the State Capitol