Helping My School District Adopt the First Truly Tobacco-Free Policy in New Mexico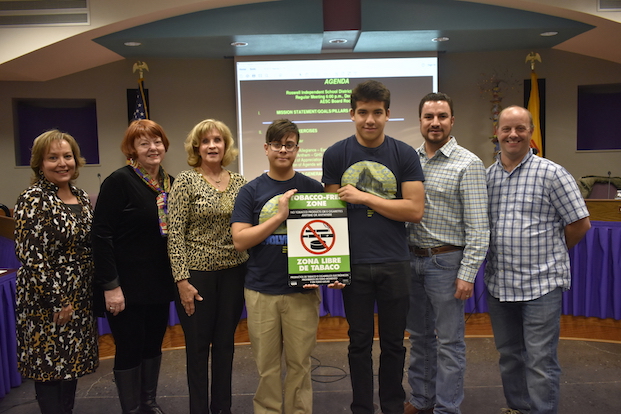 Hello my name is Kevin Pulido, I am in the 10th grade at Roswell High School. I am an active member with Evolvement New Mexico, a youth led movement promoting a healthier New Mexico. I have been working with the 24/7 campaign for the past year to help all of New Mexico's schools become tobacco-free. With Evolvement and the 24/7 campaign I have conducted principal meetings and presented at multiple school board meetings.
On December 12th Roswell Independent School District adopted a 100% comprehensive tobacco free policy. When I spoke with my classmate, Adrian Rodriguez, at the first school board meeting at first I was nervous, but when I started it went great. We talked about how the tobacco policy is not updated, and how we can update it and its benefits. The board members were very impressed and it was very helpful because now our policy is updated to be truly tobacco-free.
Roswell Independent School District is the very first school district in New Mexico to be recognized by the Department of Health as truly tobacco-free. This new policy benefits students in the entire district. Now, every school in the Roswell Independent School District will receive 24/7 campaign resources including:

• Bilingual tobacco free signs to hang around school campuses;
• 24/7 toolkit with resources for education, compliance, and enforcement of the truly tobacco free policy as well as cessation and support materials;
• Ongoing support in communicating and enforcing the policy.

I am very excited that Roswell Independent School District listened to youth activists like myself and decided to adopt this policy. I am proud with the work I have done with Evolvement and the 24/7 campaign and I am hopeful that other districts in New Mexico will also adopt a 100% comprehensive tobacco free policy. Watch the full story here.
Helping My School District Adopt the First Truly Tobacco-Free Policy in New Mexico