We are the Return on Investment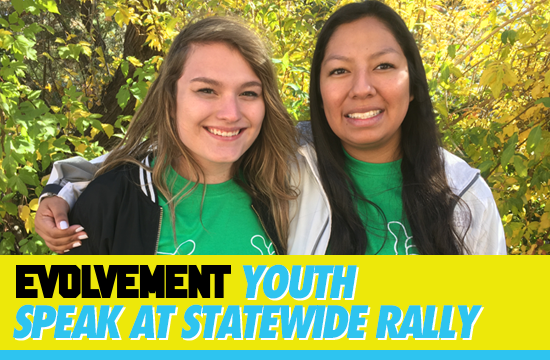 Hello our names are Faviola Marin and Maia Aguino and we are both students at V. Sue Cleveland High School. We have been in Evolvement for 3 years, and are current members of the Evolvement New Mexico Leadership Team. Being on the leadership team has been a very rewarding experience; it's been an honor to advocate and educate New Mexicans about the dangers of tobacco. One of our most valuable experiences was giving an address at the statewide Return on Investment Rally in Santa Fe.
The Return on Investment Rally highlighted the possibility that New Mexico tobacco control programs may lose funding. This funding is being used to combat the devastating effects tobacco companies have on our communities. We spoke about our movement and how Evolvement trains youth around New Mexico to work on campaigns that help educate peers and community members about the harmful effects of tobacco.
As Evolvement youth leaders, we represent the other passionate Evolvers and show that the youth really do care about the future. It was and is important for us to show that tobacco control programs like Evolvement are thriving and effective, and provide the youth who are passionate about creating a healthy, tobacco-free New Mexico a platform to make their voices heard. We can continue promoting tobacco control programs just by speaking about the great opportunities we have (like speaking at this rally) and by getting more people involved. Together we can all make a change!
We are the Return on Investment